Inter Class Cultural Festival - 29th - 30th November
The annual Intra College Cultural Fest UTSAV was organised on 25th and 26th of November. The two day extravaganza unfolded a lot of vibrant events which had huge participation from the students. Utsav-14 , one could see and feel the excitement in the air as the students were keen for the proceedings to start and had gathered at the amphitheatre waiting for the proceeds to begin.
The programme started with the speech of Chief Minister Mr. Harish Rawat. On the occasion the chief guest addressed the all participants and students that fests like utsav motivate the students & embellish their personality which help them to easily tackle with the challenges that they may face in future. Further he said that in a very small time the college has reached great heights and has given excellent academic results.
Then there was the Graffiti competition where the students had put their wit and drawing talent on display, which was not only appreciated but also amused the gathering. This was followed by a Special Talent show, where the students could showcase their talent. Then it was time for the sports field with the students gathering for fun sports and team sports, which was by and large greatly applauded. However, it was the Tug of War which had the student community vocally cheering their team to get the better of their opponent.
After a quick lunch, there was final presentation of Case Study, final presentation of Ad Mad and the final presentation of Band Promotion. And then began the final competitions in the solo vocal and solo dance group and group vocal and group dances before the judges. The quality of the performance in both the competitions was high and highly appreciated by the gathering.
In Band of war the first and second prizes were snatched by Black Sheep and Cosmos, Debate prizes were claimed by Smita and Bidhisha respectively. Devils Advocate was taken up by Bidhisha and Raka.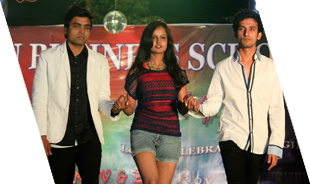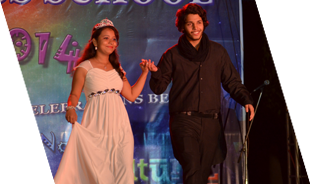 Dr. Ashok Kumar Dubey had a word of praise for the students for the high quality of performance that they had put in. "It shows that the students are as keen in extra -curricular activities and also to hone their talents, as they are to upgrade their knowledge and academics during their stay here", he added.
There was a tie between BCom and MBA-3rs sem for the overall winners trophy. The class Coordinators Ms Salonica Dhaundiyal, Ms Sneha, Mr, Sachin Kumar and Mrs Pushpa Kataria respectively were jointly given the trophy by the Chairman, Mr. Mohit Agarwal.